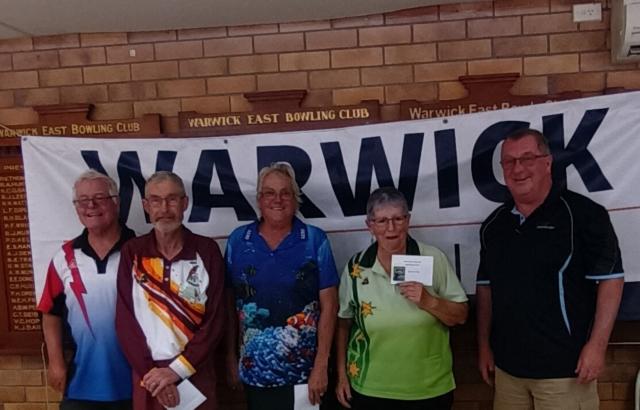 NIGHT BOWLS POPULAR AT CLIFTON
Night Bowls at the Cliton Bowls club continues to draw a good crowd of enthusiastic bowlers. On Thursday evening (9/11) Jeremy, Belinda and Michael made up the winning team. The runners up were Steven, Gordon and Andy. In all there were 18 bowlers on the green.
Of course, there will be night bowls played again tonight (16/11). Those intending to play are asked to be at the club by 6.30pm to assist the organisers.
Saturday the club is hosting the Tony Morris Sponsored Day – It is a casual dress day and names should be submitted by 12.30pm ready for a 1pm start.
A sausage sizzle will follow the game, and everyone is welcome.
Next Wednesday (22/11) is the Cliton Bowls Club Mid-Week Fours. Pat Weir is sponsoring the day and play begins at 11am.
On Saturday 25th November all eyes will be on the Club's Veteran's Singles tournament which gets underway with the first games starting at 9am.
The players involved are – K Morris, L Smith, G Jago, I Weier, R Kehl, N Postle, G Knights, D Hughes and G Death. All players will play two games of 10 ends. A final of 10 ends will then be played to decide the winner. The cost is $14 per player and includes green fees, morning tea and lunch.
On Friday (17/11) the club will open at 5pm. Meals will be available from 6pm and bookings can be made by calling Julie ( 0402 029 263).
WARNER BACK IN THE PRESIDENT'S SADDLE
The Summit Bowls Club held their AGM on Saturday morning and following the meeting Graeme Warner finds himself back in the saddle as President and several executive positions remain unchanged.
The elected Board for the upcoming year is Secretary, Peter Balmer; Treasurer, Maree Ball;
Vice President Darren Stanley: Providore, Clayton James (assisted by Paul Zamprogno).
Greens Director Glen Preston; Rep Selector Peter Ayerst; Club Selectors Ray Spiller, Phil
Davis and Frank Taylor; District Delegate John Shannon; Qualified Coaches Graeme Warner, John Shannon and Paul Beauman; Accredited Umpires – Graeme Warner, John Shannon and Paul Beauman. The positions of Games Director and Publicity Officer are yet to be advised.
Following the AGM Social bowls were played during the afternoon.
Matthew Murphy and Phil Davis scored a three shot win over Eddie Zanatta and Ray Spiller. The score 17- 14.
Pam Moore and Brian Wilmot combined to score a convincing 23-19 win against Margaret Harvey and Frank Taylor 13.
Brian Brown and Rod Newlands showed they were in form defeating Joe Stratman and Paul Zamprogno by a comfortable 27-17 margin.
Rod Crome and Jamie Zamprogno had a 19-12 win in their game against Mary Zanatta and Adrian Jackson.
Nominations for the District Mixed Two Bowl Triples are now open. This event is open to teams which include players from different clubs. Therefore intending players must approach members of other clubs to form a team.
In other Summit club news, club members wish Robbie Capelli a speedy recovery and good wishes as he recovers from recent heart surgery in Price Charles Hospital (Brisbane). Reports indicate that the surgery went well however Robbie Is facing a lengthy period of recovery.
The program for the upcoming weeks at the club includes:-
Saturday 18 November Social Bowls – Presidents Singles played at the Stanthorpe Bowls Club.
Tuesday 21 Turkey Triples
Friday 24 Family Barbeque (Bookings essential)
Saturday 25 Social Bowls
Saturday 2 December District Mixed Two Bowl Triples – The Summit Bowls Club – Sectional – Social bowls
Sunday 3 District Mixed Two Bowl Triples – The Summit Bowls Club – Post Sectional
Saturday 9 Trophy Afternoon
Saturday 16 Club Christmas Party
Tuesday 19 Dec Turkey Triples
RAINED OUT AGAIN
Night Barefoot Bowls at the Warwick East Bowls club were rained out for the second consecutive week following rain on Friday. It was disappointing however members were able to play mixed social bowls on Saturday. The equal winners were Bill Lee and Ed Diery. Peter Collis and Ralph Tate finished in the runner's up slot. The attempt at the jackpot was once again unsuccessful.
On Sunday under clear skies and in warm the club hosted a very successful Open Fours Carnival. The green was filled with 16 teams. The conditions were ideal, and the green was presented in excellent condition. The successful team were the plunderers from up the road at Southern Cross, Kim Hankinson, Dave Scotney, Clark Davidson and Brett Patrick.
The runners-up were Rob Alcock, Ed Diery, Lynn Collie and Shirley Alcock. Bob Sinnamon, Rowdy Muir, Lynn Ross and Allen Taylor took out third place.
Round One was won by Neville Richardson, Judy Richardson, Sandra Pianta and Jill Hankins.
Round Two belonged to the Summit team of Zel Zamprogno, Frank Taylor, Dale Callaghan and Peter Ayerst.
The winners of round three were Peter Collis, Margaret Grayson, Wendy Neeney and Bill Lee.
The club acknowledges the support of the major sponsors Warwick Credit Union, Oak Tree Retirement Village, Warwick RSL and Warwick Hotel. Without their support days such as Sunday would not exist.
The club also thanks the kitchen staff for their excellent catering, the bar staff, the grounds keeper and his helpers. A special thankyou to Margaret Wright and Steve Ford who organized the day and ensured everything went off according to plan.
This Friday night the club will try for another round of barefoot night bowls. Hopefully the weather gods will be on their side this week. Play starts at 6 pm, and organisers ask that names be submitted for night bowls by 5.30.
The final of the club-selected triples competition will also be played on Friday night. There will be social bowls as usual on Saturday November 18, with play starting at 1 pm, while on Saturday November 25 the club will celebrate Patron and Patroness day. by Patron, Bill Gibson and Patroness Gloria Brady will sponsor the
Annual event.
VISITORS TAKE PRIZES HOME TO STANTHORPE
The Warwick Bowls club hosted 14 teams laying in the club's Monthly Triples event on Tuesday (7/11)
Results with only the Teams Skip's name: Phil Wagner – 21; Jim Rickard – 29; Doug Christensen- 13; Frank Taylor – 32; Jools Buse – 26; Matt Shepherd – 9; Craig Thurgate – 16; Geoff Davis – 21; Marion Skaines – 8; Max Holder – 17; Sue Butz – 15; Wayne Foster – 19; Brian Black – 21; Steve Ford – 19.
Congratulations to the winning team of Polly Lay, Brian Brown and Frank Taylor from Stanthorpe. Their score 32. The runner's the local team from the host club, Max Balfour, Gary Cooper and Jim Rickard who scored 29,
The second-round winners the composite team of Phil Wagner, Dave Scotney and Geoff Creighton who scored 21. A very big thank you to the ground staff who had the green running beautifully. Thanks also to Brian and Phil for organising of teams and finally the ladies in the kitchen and the bar staff who looked after everyone so well. The Ladies in the Kitchen and Bar staff. The following raffle winners all went home very pleased with their efforts. Matt Shepherd; Peter Klass (two wins) and Lynn Collie. Peter Klass was on a winning streak but returned his third prize for a redraw which was won by Lynn Collie (her second win for the day) and the final raffle prize went the way of Peter Ridgewell. Our thanks the Bowlers for their support, and to the Condamine Sports Club for their sponsorship of the event.
Coming Events in November:
Frid 17: Barefoot Evening Bowls at Warwick Bowls Club, $12 pp with BBQ supper. Everyone very welcome. Please call (07) 4661 1516 between 5pm and 5.30pm. Play begins at 6pm.
Sat 18: Social bowls
Wed 22: Jack Pot bowls
Thursday 23: WBC Christmas Party
Frid 24: Barefoot Evening Bowls at Southern Cross – Please call (07) 4661 1876 between 5pm and 5.30pm. Bowls begin at 6pm.
Sat 25; Social bowls.
BIG NUMBERS FOR MIDWEEK STABLEFORD
16 visiting golfers from the Toowoomba golf club helped swell the playing numbers last Wednesday (8/11) to a field of 83 in the Stableford competition.
There was a log jam at the top of the leader board with the "Prodigal Son" Jon Pearson joining Kel Lucas and Neil Moore on 39 points.
Jon took the honours with Kel in the runner up spot and Neil relegated to a ball in the run down after the countback.
Others to feature in the run down were, Luke Forbes and Terry Bennett on 37 points. Charlie Morrison, Mark Paroz and Sean Haynes on 36 points.
All on 35 points – Peter Balfour, Ian Skillen, Gary Russell-Sharam, Doug Wilson and Toowoomba visitor John Coates.
The Pro Pin 13th winners were Mal Crawford, Peter Payne and Garry Adcock.
Nearest the pins, were Darrell Bain (fifth), Doug Wilson (seventh), Noel Hill (ninth) and the 11th and Brian Thomas held 16.