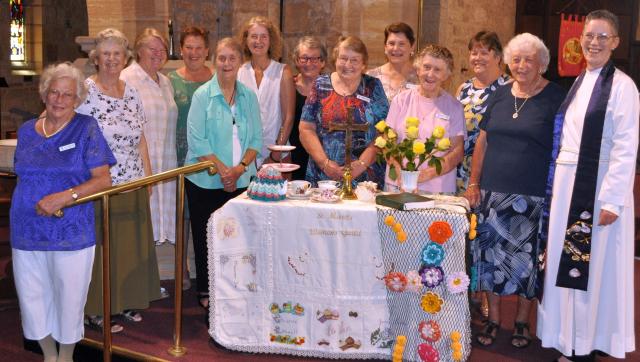 By Tania Phillips
For 75 year's the St Mark's Women's Guild in Warwick has been a place where friendships have been made and where people of both the church and wider community have been helped and supported.
And for one day a year, for the past 60 years, it's also a place where avid amateur rose growers have shown of their blooms and enjoyed a scone, slice or cake or two.
And according to guild secretary Sue Nalder, it's that time of year again with group holding their 60th Annual Rose Festival in the Anglican Parish Hall on Grafton Street on 13 October.
"This Diamond Anniversary year coincides with the marking of 75 years of continuous service by the Guild to both the Anglican Parish of Warwick and the general community," she said.
"Although membership is much reduced from all those years ago, our loyal band of ladies continues to excel in whatever they undertake in addition to the Rose Festival, the much heralded Flower Tower and the most successful ever Art Café during the 2023 Jumpers and Jazz in July Festival."
While they are celebrating 75 years of continuous service the group is actually a bit older than that according to Sue.
"The Guild was reformed in 1948 following a break for the war years," she explained.
"Since that time it's continually supported the Parish, offering a friendly welcome at fundraising events and general parish events and also has contributed to many large maintenance issues over the years.
"In the past membership was much higher, when working mother's weren't a thing. I did see one date where they had 50 members. Now we're down to about 11 to a dozen. But everybody is very active and does what they can."
While the group carry out all sorts of activities including the catering of wakes and events, the Rose festival has always been a favourite.
"The main fundraising activity of St Marks does remain our annual rose festival," she said.
"The rose festival has been going for 60 years so we're making it a diamond celebration. Over the years there have been a number of specific events that have happened that we have used as a theme. For example, last year we celebrated the Queens Platnium Jubilee, of course there was a little bit of a dampener put on it when Her Majesty died but we managed to make it a celebration of her life and incorporate that wonderful interaction with Paddington Bear.
"In 1988 the group did a Bicentennial theme. They try to pick up any themes which may have been particular to those years and incorporate it in decoration and entertainment. Until the late 90s they use to incorporate a concert into the Festival, these days with fewer of us we do the things we have a little more expertise at which is the catering.
"The guild is known for it's good bakers, in fact they use to say how could you be a member of the guild if you couldn't bake? I'm a living example of that though but since I can do the computer stuff I get a free pass from baking," Sue laughed.
"Over the year's we have been graced with the support of the Council in it's various forms and also the Warwick Credit Union who provide small cash prizes. But I don't think people enter so much for the monetary reward as for one of the now six perpetual trophies."
The Rose festival will be held on Friday 13 October with the competition schedule already finalised.
"The schedule gives the categories. For example we have section one which is a bowl of roses which is mixed or any colour. It carries a trophy from the Southern Downs Regional Council for the winner and then for second and third prize there are prizes donated by the credit union," Sue said.
She said the trophies come from long term parishioners who are supportive of the group as well as memorial trophies for former members or long-time entrants in the competition.
"All the trophies have a specific connection to us," Sue explained.
"And we get a lot of entries. I'm constantly amazed, we get somewhere on average between 85 and 100 entries so it's quite well supported. Some of the same people pop up all the time but every year we seem to get new people.
"I think initially, it tended to be older members of the community but over the past five or six years we've had a lot of younger entrants.
"It is not always the same people that win either. If you look at the trophies you will sometimes see some of the same names popping up but in fact it's been a little more varied in the past few years because, as we gardeners say, the weather never co-operates. It's always on the second Friday of October and invariably we'll get high winds or heavy rain and neither of those things are conducive to having your best roses. On the whole people are just putting in garden roses. They don't have big protected areas or anything like that. That is the wonderful thing about this competition."
She said while there are rules, the competition is more conducive to every day gardeners.
To enter just come along on the Friday morning between 8.30am and 10.30am with roses and containers.
"Then we close the doors of the Parish Hall and set our judge to go," Sue said.
The hall is then opened again for a social afternoon with the prize and trophy celebration from 1.30pm.
"We usually get about a hundred people for that one.
"A lot of people just come for the guild's baking. We serve afternoon tea and the hall is just filled with the perfume of all of those roses."