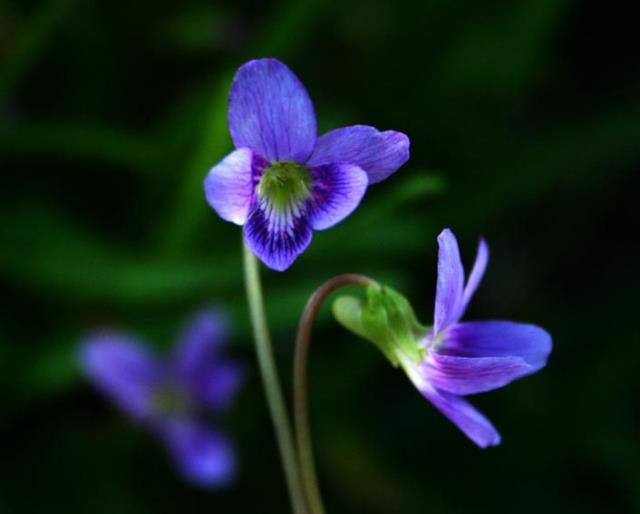 By Beatrice Hawkins
This month the birthday flower is the violet, symbolising loyalty and we have a special reason for noting this as the violet plays a part in Toowoomba's history and is the official floral emblem of the city.
The history of the Toowoomba violet is a lovely story and one with which I have become familiar since shifting to the Downs region but was new to me.
The botanical name is Viola Odorata Princess of Wales, commonly known as sweet violet and is native to Europe.
The mothers and other family members of those that went from Toowoomba for World War I and didn't return sold bunches of these violets to raise funds to build a memorial to the fallen.
There were 50 violets and three leaves in each bunch, tied with cotton and sold for three pence. Altogether there was £1800 raised from the sales and the memorial was built in 1922 which is now located in East Creek Park.
Now, by my calculations, that means there were 144,000 bunches sold – 7,200,000 individual flowers which is no small effort for a town of about 20,000 people.
From what I can gather these were all from private gardens, so violets were definitely a popular flower back then.
The flower was declared to be Toowoomba's floral emblem in January 1932.
It lost its way over the years and was reintroduced in July 2012 at the Toowoomba Hospice Camellia Show with 300 plants for sale.
The history of the violet dates back to ancient Greece where it was linked with love and romance.
I bought a Toowoomba violet plant at the Camellia Show in 2016 and it is doing well in a spot that gets protection from hot weather.
I am looking forward to it spreading widely so I can pick bunches and have their wonderful perfume inside.
Violets don't seem to be as prominent in gardens these days as when I was a child but maybe this is because they do tend to run a bit wild to the exclusion of other flowers.
Bunches of violets and freesias were a favourite of mine.
The old fashioned common freesia, before all the beautiful coloured ones were developed and popularised, used to grow on the verge of the road as I walked home after school.
Bunches of the highly perfumed beauties were often picked for Mum to add to the violets growing in profusion under the Elberta peach tree in the back yard, another fruit variety I have not seen, heard of or tasted in years.
She was a patient lady with a flower obsessed small girl!!
These violets were not the beautiful, deep purple perfumed wonders of the Toowoomba violet but probably the common variety from which they were developed but I still adored them and they grew so easily and in such abundance.
They took ages to pick and filled in a lot of time for a small girl.
The other violet of my childhood was the now popular Australian native that grew on the creek bank on the other side of the swamp, in damp, shady areas where a patient older brother and I would explore.
These were a real treat to find and bring home.
I am glad someone thought to bring them to nurseries and grow them in suburban gardens as they look wonderful around shady ponds with their pretty white, blue centred, pansy like faces.
Other smaller varieties also struggled for space in the garden, pretty tiny pink ones, delicate white varieties and even cream and yellow ones.
I haven't seen these in gardens or nurseries for years. Maybe I need to start a campaign to bring them back!!
Now for some trivia.
* Viola is the largest genus of the family violaceace containing between 525-600 species and violets, pansies and violas are all part of this and found as native in some form in most of the countries of the world.
* The Greeks used the violets in wine, foods and medicine and loved it so much it became the symbol of Athens.
* Violets were Napoleon's signature flower and he covered his wife Josephine's grave with them when she died in 1814.
*This is an old article that has been digitised so our readers have access to our full catalogue.