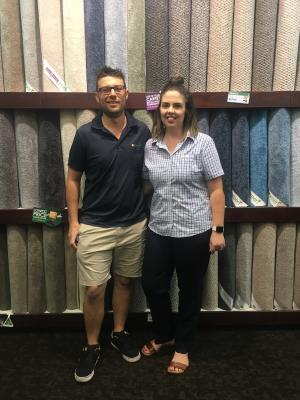 By Dominique Tassell
Spring has sprung, and Andersens is encouraging locals to take a different approach to spring cleaning this year.
Owner Hayley Kirby says that spring is a great time of year to do that home renovating you've been talking about.
"We offer a huge range of products from carpet, vinyl, timber and laminate flooring," she says.
"We also have a beautiful range of tiles instore for your bathroom renovation.
"And if you're looking at freshening up your window coverings we also offer a range of shutters, roller blinds, panel glides and vertical blinds."
Andersens at Stanthorpe has an experienced team that can help you with whatever you need.
The team, made up of Gary, Hayley, Theresa, and Chris can advise you on whatever projects you're contemplating and the store also has installers with over 60 years experience.
Andersens also offer a free measure and quote so customers should beat the Christmas rush by coming instore now.
Customers can also feel good about playing a role in helping the environment when they shop with Andersens.
Every floor or window covering project made with Andersens results in a tree being planted as part of their One Project-One Tree reforestation initiative around the world.
So far almost 80,000 trees have been planted across Australia, Africa, Europe, and South America.
Andersens is committed to helping the community in multiple ways, and last year raised money for Australian children's education charity, The Smith Family, by donating $1 for every square metre of Australian-made carpet sold.
"We were thrilled to see that many of our customers felt strongly about supporting their cause too, and together we were able to raise over $95,000," a spokesperson said.
"These funds are providing young Australians experiencing disadvantage with the extra support they need to succeed at school."