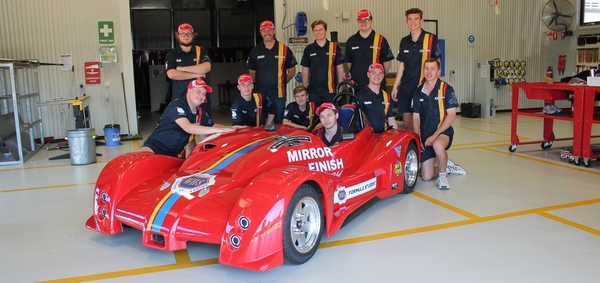 Participants from Warwick State High School's 'Formula Student' program will have the results of their hands-on learning on display for all to see at this Saturday's Rodeo Street Parade.
The program involves the ground-up build of a production race car at the school's fully-equipped Trade Training Centre at the corner of Victoria and Guy Streets.
Tomorrow – Friday 25 October – the group of Year 12 students who form the 2019 'Formula' team will take to the circuit at Lakeside Park Raceway at Kurwongbah north of Brisbane to put the vehicle through its paces, with each student enjoying track-time in a six-hour 'endurance' racing event.
It'll be an early start – leaving Warwick at 4.30am and returning early evening – and they'll be up early again on Saturday to prepare for the Street Parade, with the vehicle to be proudly carried on a trailer to give crowds a good look at their handiwork.
Under the close supervision of manual arts and design technology teacher – and self-confessed 'revhead' – Michael Plant, the students spent around six hours a week during the course of this year manufacturing the business-end of the race car from scratch, with only the body itself having been re-used from last year's project.
The 'Formula Student' concept was the brainchild of Brisbane businessman and motorsport enthusiast Greig Frankham and a number of other Queensland high schools are involved.
In the case of Warwick State High School the students began work on the program mid-way through Year 11 and have worked through a detailed set of engineering and trade-related specifications with job-cards and allocated tasks, in full 'workshop mode'.
The bigger picture of the program is to allow the students to work in a simulated professional engineering and trade environment.
And, most importantly, to learn the value and enjoy the rewards of working as part of a team.
One student from the 2018 program, Owen Basson, went on to secure an apprenticeship with Southern Downs Automotive in Warwick and it's hoped others will follow down a similar apprenticeship path with local businesses ongoing.
"It's a high-quality build," Michael Plant explained to the Free Times.
"Everything has to be done to specification and when it goes out on the track at Lakeside it has to perform like any race car and will be subject to all the normal stresses at speed.
"Last year's car was on display in Rose City Shoppingworld which was great.
"We're really excited about being in the Rodeo Street Parade this year – it's another opportunity to show the public what we've achieved through the program.
"Apart from the body it's a totally new vehicle and pretty much everything has been made from scratch in-house, with only a few supplied parts.
"We're also really grateful to all of the local businesses who've given very generous support to the program."
Local businesses involved in the 'Formula Student' program include Warwick Holden/Southern Downs Automotive, Mirror Finish Smash Repairs, We R Signs, Warwick Screenprinting and Embroidery and ArcPoint Industries at Allora.