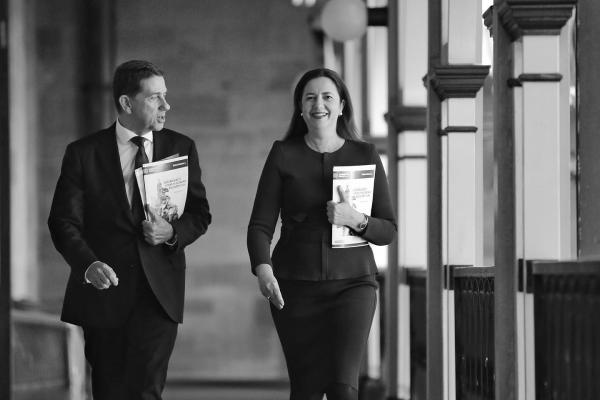 By Jess Baker
Member for Southern Downs James Lister has lashed out at the Queensland government, calling its budget a "disappointing" one that simply re-announces the "same old projects".
The 2021-22 Queensland budget was tabled in State Parliament on Tuesday 15 June.
It detailed a number of projects for the Southern Downs – most of which were announced in previous budgets.
Nearly $1 million in 2021-22 out of a $2.5 million total spend has been committed to delivering a new water reservoir at the Warwick wastewater sewage treatment plant to supply industry with Class A recycled water.
Warwick State High School will receive $280,000 in 2021-22 out of a $5.8 million total spend to deliver a new multipurpose hall facility, and Warwick police facilities will receive $500,000 out of a $15 million total spend to progress upgrades.
Just over $76,000 in 2021-22 of a total $3.8 million spend will be committed to undertaking upgrades at both Goondiwindi and Warwick hospitals, and $11.5 million in 2021-22 of a total $19.3 million spend will go towards delivering the Southern Downs Drought Resilience Package announced by Premier Annastacia Palaszczuk in April.
The Karara Wind Farm development near Warwick will receive $144.9 million in 2021-22 to help CleanCo build, own and operate the project, and $1.8 million in 2021-22 of a total $3.3 million spend has been committed to completing upgrades to facilities at Girraween National Park near Stanthorpe.
A project to upgrade the Eight Mile intersection, where the Cunningham Highway and New England Highway meet to the north of Warwick, will receive $15 million in 2021-22 of a $25 million total spend.
Mr Lister said the budget was disappointing for everyone in the Southern Downs.
"The state government has simply re-announced the same old projects from previous budgets," he said.
"Some of them are half-complete already and others are years from starting, but the state government is still re-announcing as new, projects which they claimed credit for months or years ago."
Mr Lister said that he had been lobbying for funding to "properly fix" Cunningham's Gap and sections of the Cunningham, New England and Gore Highways, but there were no funds made available for such projects.
"This is a big problem for us because our local economy depends on decent roads, and every day that goes by without fixing them makes it harder and more expensive later on," he said.
"If the state government is going to put us in debt for $120 billion, then we should at least get our fair share of it spent in our neck of the woods.
"Instead, our kids and grandkids in Southern Downs will be paying off Labor's debt for a hundred years without getting to see the benefits locally."