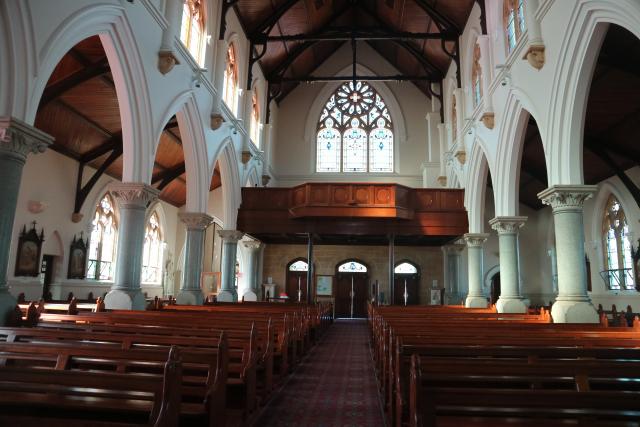 By Dominique Tassell
St Mary's Church in Warwick is getting involved in the Jumpers and Jazz in July Festival this year, opening up the church to visitors.
While the church has been decorated for the festival for many years, this year they will be opening their doors every day of the festival.
Dave Carr from St Mary's said they made steps to get involved a few years ago, with an initial idea to have scarves and hats on the gate for people to take.
Last year, they opened the church up for visitors. Seeing that people wanted to come inside, they decided to get more involved this year.
"We're a bit of a landmark in town for people passing through," he says.
For all ten days of the festival, Thursday 21 July through Sunday 31 July, St Mary's will have a "contemplative tree", an interactive workshop festival-goers can get involved in.
Enjoy the view of the church in all its yarnbombed glory and pick up a free hand-knitted or crocheted scarf or beanie.
This will be available from 8 am to 5 pm every day.
Also happening throughout the entire festival will be church and museum tours. From 9:30 am to 4:30 pm you can wander through the church, built in 1926, and the old museum, built in 1865.
Guides will be available to inform attendees of the buildings' historical and architectural value.
Both these events are entirely free.
From Monday 25 July through Saturday 30 July, St Mary's will be hosting morning teas in Assisi Place from 9.30 am to 11.30 am.
Devonshire Tea will be served to visitors at the St Mary's Church and museum for $5 per person.
Also from Monday 25 July through Saturday 30 July, jazz music will be played for up to 10 minutes on the hour from 10 am to 4 pm.
On Sunday 24 July and Saturday 30 July, St Mary's will be holding Jazz Mass.
The Jazz Mass is an ecumenical setting of the Catholic Mass with the music incorporating swing rhythms as opposed to straight rhythms of traditional church music and is celebrated with congregational church participation and parish choirs.
Mass will be held at 8.30 am and 9.30 am on Sunday 24 July, and at 6 pm and 7 pm on Saturday 30 July.