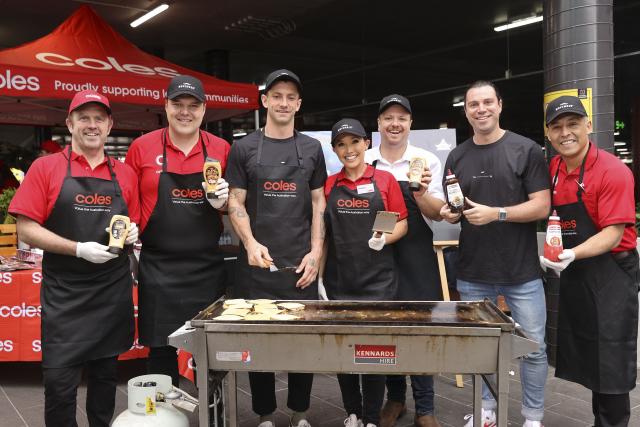 Coles supermarkets are stepping up to support the leading men's health charity, Movember, with a range of special products available in stores and online throughout November.
The initiative aims to raise funds for vital men's health programs, focusing on mental health and suicide prevention, prostate cancer, and testicular cancer.
Among the products being introduced in support of Movember is the popular Coles Movember donut, which will make a comeback on bakery shelves.
For each pack sold, 10 cents will be donated to Movember. Additionally, 50 cents from every purchase of men's deodorant and grooming products from well-known brands like Lynx, Rexona, Dove, Gillette, Nivea, L'Oreal, Brut, and KOi for Men will go towards funding important men's health initiatives.
As summer approaches, Coles also encourages friends to come together and host special Mo-ments. For every transaction that includes the purchase of both a select Coles Burger Sauce and a Coles Beef BBQ Burgers 10-pack, $1 will be donated to Movember, up to a maximum of $25,000.
Furthermore, a 10 cent donation to Movember will be made for the sale of any MasterFoods tomato or BBQ sauce, with a total contribution of up to $80,000.
This includes the new range of premium American-style BBQ sauces called Born in the Flames, exclusively available at Coles.
All funds raised between November 1st and November 30th through these initiatives at Coles will support programs and initiatives aimed at addressing the complex health issues affecting men today.
Tom Liberatore, a Western Bulldogs champion known for his iconic AFL moustache, has thrown his support behind the Movember campaign at Coles.
He urges everyone to participate in growing a moustache, hosting an event, setting a physical challenge, or simply purchasing a participating product or making a donation at Coles.
Coles Group General Manager Corporate and Indigenous Affairs, Sally Fielke, expressed the company's pride in being a Major Partner of Movember.
Since 2010, Coles has already raised over $2.9 million for the charity, thanks to the support of customers, team members, and suppliers.
Movember Director of Partnerships and New Business, Kieran Ryan, expressed gratitude for Coles' ongoing support, emphasizing how the donations received help fund crucial men's health initiatives such as Victoria University's 'Sons of the West' program, facilitated by the Western Bulldogs Community Foundation.
Another initiative supported by Movember is 'Ahead of the Game,' a youth mental fitness and resilience training program reaching 60,000 boys and girls in community football clubs across Australia.
In addition to its efforts to raise funds for Movember, Coles is also an official presenting partner for the AFL and Movember's Ahead of the Game (AOTG) program.
Rolled out since June this year, AOTG is the largest mental health literacy and resilience program in youth sport globally.
It has already conducted 188 workshops at more than 35 community football clubs across Australia.
Coles hopes that by providing numerous avenues for support, customers and the community can contribute to this important cause, whether it's donating at the checkout, hosting a BBQ, or purchasing men's deodorant and grooming products throughout November.
Together, they aim to make a significant impact on men's health awareness and support in Australia.