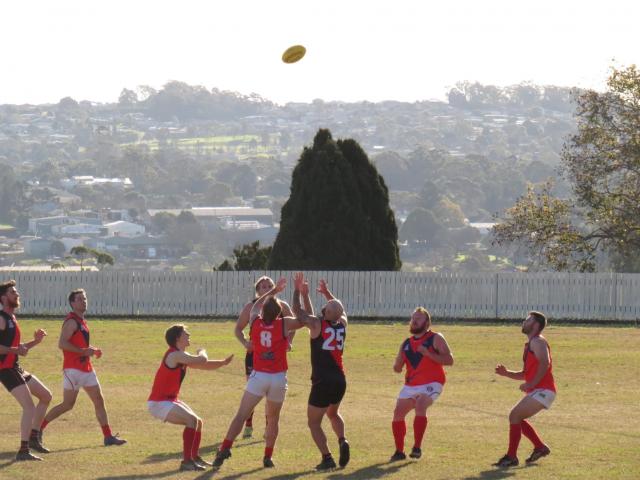 By Casey O'connor
The Warwick Gardens Galore Redbacks' winning streak came to an end on Saturday at Southern Cross Oval, Toowoomba. The Redbacks watched their dream of playing finals football in 2022 slip away as they found the second-placed South Toowoomba Bombers too slick. Beaten 16-11(107) to 8-5(53) in their round 15 clash of the AFL Darling Downs Allied Pickford's Cup.
The Bombers opened the scoring in the first quarter, but the Redbacks were able to keep in touch with two goals off the boot of captain Shane Iles. The score at the end of the quarter was Bombers 3-5 (23) – Reddies 2-1 (13).
The second quarter developed into an arm wrestle with both sides going goal for goal. Fresh from his milestone 150th Tyhe Clarkson swooped on a rushed kick-out and converted the set shot. Clarkson kicked another goal on the run soon after to put the Redbacks within two goals of the Bombers.
The Bombers former Holman Medallist Trent Saxelby had other plans. He dominated the midfield battle sending it deep into the Bombers' forward line. Gabe Robbie proved a handful for the Redbacks up forward kicking five goals for the game.
The score at the main break was Bombers 8 – 8 (56) – Redbacks 7-1 (43). Heading to the sheds with just a 13-point deficit the Redbacks supporters had reason for optimism as their side looked to be right in the game.
The Bombers came out firing scoring four goals in quick succession. Redbacks veteran Andrew Bardsley kicked the Redbacks' lone goal for the quarter after making the switch into attack.
The Redbacks faced an uphill battle in the final quarter. Down 30 points on the scoreboard, there was added pressure leading into the final quarter when they lost one of their star players Brendan Iles with a hamstring problem.
With their dream of finals football on the line, the Redbacks threw everything they had at the Bombers.
Unfortunately for the Reddies fans, the final quarter was all Red and Black. The Bombers too strong in the end and kicked away to a 54-point win. 16-11 (107) to 8-5 (53).
The Redbacks Jayden Grogan, arguably the best winger in the competition ran all day, used the ball well and was strong in every contest. He was named the Redbacks Players Player.
Shane Iles kicked three goals; Tyhe Clarkson two and Andrew Bardsley, Corrie Gilbert and Tom Fern kicked a goal each.
The Warwick's Gardens Galore Redbacks will at out to recapture their recent good form when they return to Credit Union Oval this Saturday for their clash with the Goondiwindi Hawks on Reddies Old Boys' day.