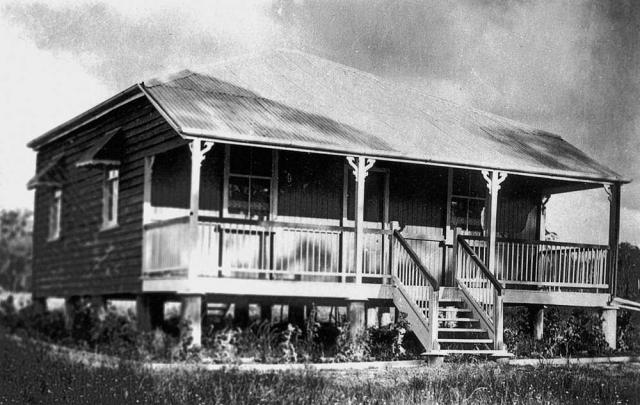 The following are key events that happened in Stanthorpe during 1920:
• Pikedale Soldier Settlement Co-operative Canning Jam Preserving Co Ltd opened Saturday, December 11, producing "digger" tomato soup and "Aussie" tomato sauce.
Amiens State School on 4 February, 1920:
"The following day a letter supporting the headteacher was written by School Committee Secretary, Mr Fred Sheldon. It was appropriate that, as the first secretary of the School Commitee, he was the parent of the first pupil, Leoni Sheldon recorded on the school roll in 1919. In his letter to the Department he wrote: 'I am instructed by my committee to place before you the urgent need of additions to the school. The present building has a capacity of 30 and there are about 60 children. During our winter months its impossible to have outside classes. There is a great need for warming as the temperature goes as low as 9 degrees and does not on many days exceed 50 degrees Fahrenheit. An assistant teacher is urgent as the school is really Class 9. Trusting this will meet with your early favour. The Chairman of the School Committee was Mr JR. Little. Their combined efforts produced results and Miss Elizabeth Jane Stower was appointed as an assistant teacher on March 19th 1920. Accommodation for the first assistant teacher was almost nonexistent. Many settlers only had small bark humpies or tents to live in. A very small room was erected in the school grounds. It contained the barest necessities of a bed and a stove, and was thoughtlessly built in the swampy wettest part of the school grounds – (now drained). Poor Miss Stower had to have double soles put onto her shoes to try and keep her feet dry, as she negotiated her way to the classroom. She also had to remove her bed from the room during the day so that her modest accommodation could double as a classroom. Miss Stower later described her arrival in an amusing fashion: 'I came to Stanthorpe by mail train and spent the night at Landy's Hotel. Next morning
I took a taxi to Amiens, but kept the driver waiting until I was sure of my accommodation. My meals were provided by the Tom Trevethan's down at the Post Office. I took a walk down to "Rotten Row" wearing a red cardigan, and the men welcomed me by singing "Here comes Rosie". Later I boarded with McMahon's at their bantam farm and also Wilson's and Little's. Mr Christian, the headteacher was living in a tent and came across to visit me the first night by lantern light and showed me the school records. He gave me the advice that I would need a "good deal of bluff" to cope with these children'. Miss Stower has also related the following incidents about life at the Amiens School: 'Small boy said, "Please Miss I'm cold", and I replied, "So am l". Later the Amiens Comforts Fund supplied tea, sugar and tinned milk so that each day the teachers could boil kerosene tins of water to supply hot tea for the pupils at "elevens" and lunchtime.