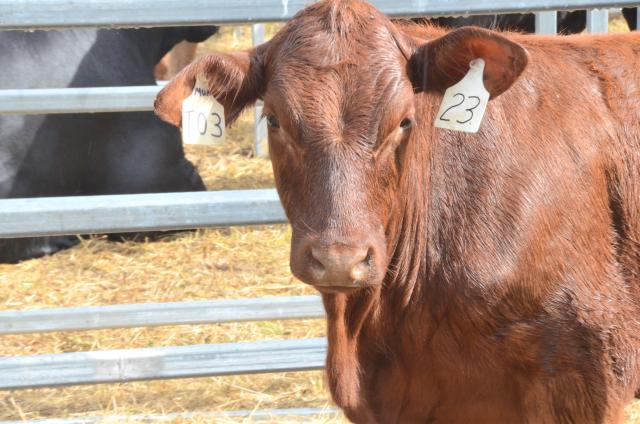 Livestock agent ROSS ELLIS of McDougall and Sons brings us an update on the local lamb and cattle markets from last week…
Agents yarded a smaller yarding of Cattle and Sheep and Lambs to the weekly sales.
There were some movements for both categories and to the vendor's relief, it was a positive note.
The recent sliding scale across the yarding was creating some nervous vibes.
The cattle market opened up with a brighter outlook, particularly with more competition in the back to the paddock types and a firm feeling across the manufacturing and feedlot and processing types.
Sheep and Lamb numbers were back and also saw a firming to a slight rise in the prices offered.
The highlight was the number of new buyers looking to firm up purchases and enter the markets for the first time.
Cattle numbers
Vealer steers averaged 511.2c/kg topping at 560.2c/kg or $$1251.71 to $1574.50
Vealer heifers averaged 472.2c/kg topping at 490.2c/kg or $1267.67 to $1564.86
Yearling steers averaged 413.2c/kg topping at 530.2c/kg or $1381.20 to $1842.45
Yearling heifers averaged 362.6c/kg topping at 420c/kg or $$1167.43 to $1470
Steers averaged 418.7c/kg topping at 496.2c/kg or $1903.86 to $2315.74
Manufacturing steers averaged 273.9c/kg topping at 283.2c/kg or $1580.80 to $1732.90
Cows averaged 242.8c/kg topping at 280.2c/kg or $1257.63 to $1990.56
Bulls averaged 294.3c/kg topping at 448.2c/kg or $1422.51 to $2322.32
Sheep and lamb numbers
Sheep and Lamb numbers were down slightly with 851 head to the market, the prices saw the rates increase on last weeks downturn.
Lambs topped at $193 to average $140.11 $23/head up
Hoggets topped at $142 to average $111.23 $25/head up
Ewes topped at $175 to average $86.75 $17/head up
Wethers topped at $126 to average $97.12 $2/head up
Rams topped at $180 to average $97.64 a drop of $43/head
Sale total average of $124.19 was $13/head up week on week.
Pig and poultry numbers
Poultry and Pork numbers were on a par with last week. The Roosters sold to $20, hens to $15, Peacocks sold to $65, Ducks sold to $27.50, Drakes to $25, Guinea Fowl to $20.
Boars sold to $144, Sows sold to $370, Pork sold from $178 to $187, Light pork to $179, Stores from $40 to $187, Spit pigs to $173
McDougall and Sons sheep and lamb report
Agents today yarded a smaller gathering of stock for the weekly sale, the market was highlighted with quite a few new buyers to the market as well as our established buyers.
Vendors were cautiously hoping for the market to stop the steep decline seen in other centres as well as last week's sale and a credit for the 851 head presented.
With a sign of cautious optimism the sale started, Lambs topped at $193 to average $140.11 ($23up), hoggets topped at $142 to average $111.23 ($25up), ewes topped at $175 to average $86.75 ($17up), wethers topped at $126 to average $97.12 ($2up), rams topped at $180 to average $97.64 ($43down).
The sale total with 80 per cent falling into the lamb or hogget classes saw the average price per head rise by $13/head to $124.19.
• Gradenfloe Past Co sold 1st x 50kg Xb lambs to GR Prime for $149, Merino wethers to GR Prime for $86
• McNamara F/t sold Xb lambs 60kg to Thomas Foods for $166, 52.1kg to Thomas Foods for $150
• Howard Brown sold Dorper x lambs 46.6kg to GR Prime for $127, 38.75kg to Peter Mc Cartney for $109
• Kim Nielsen sold 1st x Xb lambs 55kg to Thomas Foods for $150, 55kg hoggets to Peter Mc Cartney for $113
• Les Horton sold Dorper ewe & lamb units to Koomorang Past for $250
• Trudy Osbourne sold 41.25kg Dorper lambs to restockers for $140 and $122, 30kg to Koomorang for $100, rams to restockers for $180, wethers to Whites Trading for $120
• Widgeegoera Past Co sold Xb hoggets 63.3kg in the wool to Gr Prime for $110, wethers to GR Prime for $110
• Sloss P/S sold Merino ewes to Katbar for $86 and to restockers for $30, rams to GR Prime for $52