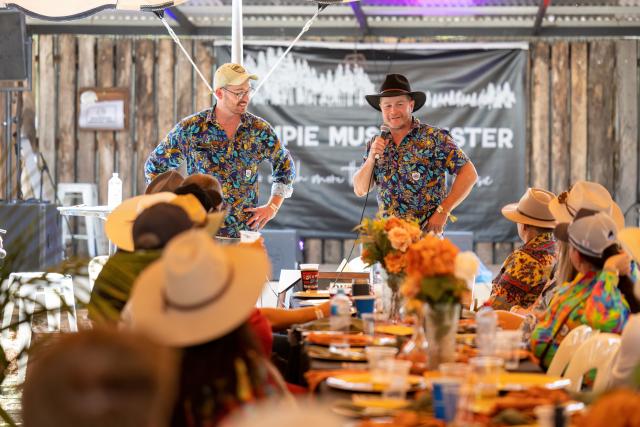 By Sarah Murphy
Everyone agrees mental health and wellbeing is one of the key ingredients to happiness and success, but despite ongoing research, mental health issues remain a larger health concern in regional and remote communities than in urban populations.
A new, grassroots support program made and presented by farmers for farmers is kicking off, designed to create localised support networks of like-minded people during times of significant adversity and stress.
The 'Farmers Helping Our Own' tour kicked off in Roma on Monday 13 November and headed to Goondiwindi on Wednesday, to hold a workshop aimed at providing farmers and their families with the knowledge, skills, and tools they need to be confident in providing the support needed during tough times.
Co-founder and NSW Northern Tablelands producer Stu Austin said they're trying to do things a little different and create a more comfortable environment for farmers to open up about their worries.
"There is a lot of support and research being put into regional areas around business management and business health and we are trying to focus on the health and wellbeing of the people in the business, because without healthy people there is no healthy business," said Mr Austin.
Stu said mental health isn't a bigger problem for farmers and people living in regional areas. The problem is the limited knowledge, limited access to support and limited access to health care professionals.
"Our intention is to take these mental health support services and educate everyday people in the lives of farmers about recognising the signs someone is doing it tough and reaching out in their own backyard," Mr Austin said.
"This includes agronomists, accountants, banking advisors and agents, anyone involved in the day-to-day lives of farmers."
Mr Austin said the launch of the 'Farmers Helping Our Own' program coincided with tough times being experienced by farmers right now.
"Mental health is having a big impact for people in the bush right now, with circumstances they are facing being flipped on their head in the space of 12 months," he said.
"Interest rates have risen from one to four percent, stock prices are 40 per cent lower than the last drought and 70 per cent lower than 12 months ago and we've gone from one of the wettest seasons on record to one of driest."
But mental health doesn't just affect the individual, it also affects their family and their farming business.
"When people get bogged down they go into business decision paralysis – where they don't want to make everyday farming decisions for fear of the unknown and as the conditions get more and more out of our control it makes it harder and harder to make these decisions and the business stagnates and loses direction," Mr Austin said.
"These workshops are just to reach out and tell farmers you don't have to make these decisions on your own. You can lean on those in your circle a little harder during tough times – accountants, agronomists, agents and financial advisors."