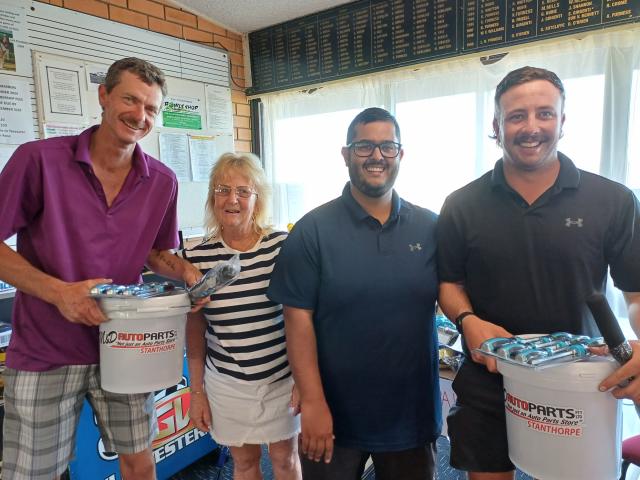 VISITING LADIES SWELL MIDWEEK NUMBERS
The Warwick midweek Women's golfers were joined last week by a group of players from the City Club (Toowoomba) and another from Injune which swelled the overall field to 38 players.
Four of the ladies chose to play just nine holes.
The Ladies played for a trophy sponsored by Rose City Premium Meats.
Jill Barnes is among a number of Ladies who have been in great form in recent weeks and on Wednesday (8/11) played an excellent round returning the winning score of 39 points. Jill scored 19 on the front nine and 20 on the back with a wash (although she had that covered with a par on the 15th for four points).
The runner up was Mel McLennan (36 points) who has also been in good touch.
A number of players had an equal best of 20 on the back nine including Narelle Norris, Vicki Bennett and two of the visitors Lyn and Jan. A countback was necessary to determine which of the ladies had the best front nine and after the calculations, honours went to Narelle Norris.
The dedicated nine hole players also had good rounds – Lyn (18), Jan (17), Carolyn (16) and Lois (15) points.
Carmel from the city Club won the Pro Pin at the fifth when she finished 370mm from the hole.
Sharing the spoils were Janine Stuart, Di Johnston and Mel McLennan.
SATURDAY STABLEFORD PERFECT FOR LOWRY
Danny Lyons one of the stalwart supporters of the Warwick Golf Club sponsored Saturday's Men's 18 hole Stableford. The big field was joined by a number of visiting players and conditions were ideal.
58 players teed off in the event and the overall winning after a countback was Marty Lowry who scored 41 points. Lowry edged out Sean Haynes in the countback after returning similar scores.
Featuring in the run down on Saturday were Steve Clare (39); Luke Forbes (38); Don Idema, Grant Ollerton and Michael Lamb (Toowoomba GC); Eamon Cockram; Ross Bell all on 37 and Cody Hannes (City GC) 36 rounded out the group.
The Pro Pom at 13 was shared between Geoff Hinze, Slim Eldridge and Tim Pleming.
NTP's went the way of Wayne Watt at the fifth and at 16. Sean Haynes did best at the seventh, Cody Haynes the ninth and Ron Simon held 11. It was a great day's golf and a perfect lead into patron's Day on Sunday.
KAHLER'S FORM SEES HANDICAP FALL
Majella Kahler has been one of the Ladies at the Warwick Golf Club in outstanding form recently. She has been playing so well that she has reduced her handicap by 2.4 just in this month. That good form held Majella in good stead on Saturday when she returned a winning round of 38 points in the Red Marker Stableford, sponsored by The Cherry Tree Coffee and Dining and it was a sign of things to come on Sunday.
The runner up was Liz Cockram with another good round of 35 points. Anne Lyons won the contest for the best nine returning 18 points. There were three players in the rundown with 34 points, Maria Carey, Narelle Norris and Ann Tomkins. Finishing with 33 points were Trish Bella and Helen Olsen while Roslyn Darton with 32 points, rounded off the run-down list.
Narelle Norris won the Pro Pin. Sharing the spoils were Annice Payne, Molly Scotney, and Majella Kahler.
Next Saturday (18/11) the Ladies play a Red Marker Stableford for a trophy sponsored by Red Rooster.
Wednesday (22/11), the Ladies tee off in the Single Stroke Mid-Week Monthly Medal, sponsored by Club Warwick RSL.
A reminder the Winter Trophy points finish on the 18/11. The Gillam Trophy points finish on the 22/11, and the eclectics, gobbles and Shoot out points all finish on 22 November as well.
TEAM KAHLER CLAIM WIN ON PATRONS DAY
The Warwick Golf club celebrated Patron's Day on Sunday. Members showing their support for the Club patron Rodney MacDonald and paying tribute to his many years of service for his many years of service to the Warwick Golf Club and his generosity.
It was wonderful to see the support for this honour Board event sponsored by Rodney. 64 were on course in 26 teams playing the Mixed Stableford and seven teams playing in the Men's competition.
Majella Kahler played great golf on Saturday and continued her good form when she partnered with Tony in this event. The pair returning 49 points and their names will soon be added in gold to the list of past winners on the honour board at the club. Not far behind the winners were Scott Mills and Di
Johnston, who narrowly edged out Ross and Trish Bell for the runner up spot after both teams finished with 46 points.
The Men's competition winners were Dale and Aaron. A great day of golf and it was wonderful to see everyone gathered in the club house to celebrate Patron's Day at the end of the round.
CONTINUING TO IMPROVE
Stanthorpe Sporters resumed normal transmission last Sunday after a short break in proceedings and the weather could not have been kinder to those who headed out to the back nine for Sunday's competition.
Sporters President, Ray Thorn, continues to improve his skills and like a good wine is improving with age. On a serious note, Thorny played some excellent shots throughout the course of the morning, particularly around the green. A well compiled score of 45 off the stick for a nett 25 ensured his spot in the winner's seat.
Stuart Rayner rarely has a bad day on the course and his score of 43 for a nett 26 was good enough for runner up after the cut of the cards. Unlucky for Hamish Adam who also returned a nett 26.
Hopefully the disappointment was softened after he claimed the prizes for leading run down score as well as the best gross score on the day and added the pin shot at the third hole.
With the back nine in play there were two pin shots on offer and, at 17 it was a close contest between Max Hunter and Hamish. The ball falling the way of Max by a narrow margin.
Sporters will be on again on this Sunday with the front nine testing the field. The festive season is coming hurtling towards us all and the announcement of the date for the Sporters break up is expected next Sunday. Remember everyone is welcome to come o9ut and enjoy a hit. The weather's too good to be sleeping in now.
ANOTHER SUCCESSFUL M and D DAY
Members of the Stanthorpe golf club played the very popular M and D Auto, two person Ambrose on Saturday.
Once again a good field supported the event sponsored by Mick and Judy Spiller. A big thank you to Mick and Judy and their suppliers for their support of the event. All players were pleased to receive a gift pack of essentials from the sponsors. Victor from M and D received a very warm welcome as he is one of the main drivers of the day.
Brendon Barker and Nigel Eldridge added a little more polish to their performance in 2022 and came away with a win this year with a winning nett score of 60 after scoring a 66 for the round.
Only one shot adrift was the team of David Reeves and Josh Anderson. Ken Rossington and Mandy Benussi combined well to take the honours in the mixed team section.
Nikki Waterworth and Mick O'Brien finished a close second in the mixed competition.
Jarrod Irwin as NTP at three; Matt Penn at 12 and Nikki Waterworth held the Ladies NTP at 12 and all collected individual prizes.
The M and D sponsored hole winners were Megsie Irwin (Men's) hole eight and Lisa Stuart was not to be denied at 17 in the Ladies challenge.
Several players pulled out some very lengthy drives in the longest drive competition but the trick to winning was to land your drive on the fairway. Scott Constable nailed a very long drive to win the men's event and it was Nikki Waterworth who had the best shot among the Ladies.
The last prize on the day was the NAGA award and there were several teams who tried very hard to take the honours. In the end the honours went to Kay Webb and Lorraine Evans who were more than pleased to accept the prize for this section.
M and D Auto also supplied prizes for a multidraw raffle to wrap up the day. The raffle was very well supported raising a nice sum.
A number of people were very happy to win a prize, and several made more than one trip to collect from the prize table.
It was another a great day of golf for everyone and great to hear that the sponsors will be back on board again in 2024.
This Saturday, the Single Stableford event is sponsored by Kev Rowling and Rod Werner who makes a welcome return after a recent health issue. Time sheets are for the e4vent are available on-line.
CHRISTMAS IS COMING TO STANTHORPE GOLF CLUB
Members of the Stanthorpe Golf club are preparing to celebrate at the club's Christmas party on Saturday 25 November. Celebrations will follow the annual Delaney Golf Day, 4BBB Stableford. The male and female Golfer of the Year will also be announced that evening. Players receive points throughout the year for playing in competitions and performing well in Single events. The men's Golfer of The Year (winner and runner up) is sponsored by Rossow Fuels. The Ladies Golfer of the Year is sponsored by Gracious Giving. The sponsor of the Ladies runner up is Neta Thouard.
There is a form at the club for players to complete if they are planning to attend. Please do so as early as possible to assist with the catering.
STANTHORPE DARTS RESULTS FROM RSL
Following are the results of the Stanthorpe Darts Club competition this week. Firstly allow us to apologise for any confusion which we may have caused after we last week incorrectly published that the Stanthorpe Darts weekly competition is held at the Central Hotel.
The Stanthorpe Darts Club meet each Thursday evening for their competition at the Stanthorpe RSL.
A Grade
Bullseye Bandits def Outsiders 5/4
Highest Score:- Craig Fossey – 125
Highest Peg:- Dave St John – 58
Best Player – Bullseye Bandits – Dave St John – two tons, three pegs
Best Player – Outsiders – Michael McAskill – two tons, three pegs
Top Flights def Jaggers 5/4
Highest Score:- Jack Spencer – 130
Highest Peg:- Rod Spencer – 64
Best Player – Top Flights – Jack Spencer – 10 tons, four pegs
Best Player – Jaggers – Grant Scott and Michael Thompson – three tons, two pegs
B Grade
Spitters def No Idea 5/4
Highest Score:- Matty Rouen – 116
Highest Peg:- Bobby Cooper – 48
Best Player – Spitters – Bobby Cooper and Ben Spencer – one ton, three pegs
Best Player – No Idea – Bryce – nil tons, three pegs
Cruisers def Eltoro Firewood 5/4
Highest Score:- Olivia Fairbank – 132
Highest Peg:- Glen Nocente – 20
Best Player – Crusiers – Olivia Fairbank – one ton, two pegs
Best Player – Eltoro Firewood – Matthew – one ton, two pegs
BACK ON COURT AFTER CONCERN
Following a week where there was more concern for safety and bushfires than Croquet games, the crew from the Warwick Croquet club were back on court this week and settled into their croquet competitions.
Tuesday 7/11/23 Association Play.
On Tuesday (7/11) Dorothy Gartery and Jill Birtwistle Pegged Out on 26 in their game against
opponents Lesley Grayson and Margaret Lawton (17).
Earlier on Saturday (4/11) Tony Hinde took on Lesley Grayson and Dorothy Gartery and in a tough
game scored a one shot win. The final score 17-16.
Thursday (9/11) the Golf Croquet plyers were back in action on the green. There was no sign of a Hole in one but there were some close games.
Results:-
Sue Stanley-Harris and Lorraine Henderson (7) V Deb Martin (5)
Maree Windle (7) V Beth Schottelius and Joyce Mahony (6)
Maria Ryan and Marian Cirson (7) V Helen Dooley and Lil Henricks (4)
Rhyl Dearden (7) V Judy Funder (4)
Rhyl Dearden (7) V Beth Schottelius and Lorraine Henderson (4)
Lil Henricks and Maria Ryan (7) V Sue Stanley-Harris (4)
Judy Funder and Maree Windle (7) V Joyce Mahony and Deb Martin (4)
Helen Dooley (7) V Marian Cirson (4)
Deb Martin and Marian Cirson (7) V Judy Funder (4)
Helen Dooley and Rhyl Dearden (7) V Joyce Mahony (4)
Sue Stanley-Harris and Maree Windle (7) V Beth Schottelius and Maria Ryan (5).
CONDITIONS GOOD FOR WEEKEND EVENT
After missing a round of competition the previous week due to wet weather conditions shooters were out in numbers competing at the 400 yard shoot on Sunday in the Southern Downs Rifle Club on Risdon Range.
Conditions were very warm and with that came the usual variable winds and mirage.
The club welcomed Kirsten, Dakotah and Cameron, all friends of the Aspinall family and shooting for the first time. The group enjoyed the experience and Members are hoping to see them back on the range sometime soon. After a long break from competition, Craig and Charlie Montgomery made a welcome return.
Results: F class – (400 yards)
Standard (Max 126)
John Cook (123.8); Dave Taylor (119.5); Merryn Snelling (111.2); Hayden Aspinall (107.1); Michael
Aspinall (87.2);
Dakota Davis (57.2) (one range only – max 60)
F Open – (Max 126)
Richard McKillop (125.14); Kevin Birse (123.11); Craig Montgomery (119.9);
Bruce McAllan (119.7); Margaret Taylor (119.7); Greg Wilson (118.7) Charlie Montgomery (110.5);
Cameron Fowke (85).
Sporter/Hunter – (Max 105)
Gary Snelling (101.4); Daryl Reck (100.6); Nick Kent (97.5); Beth Aspinall (89.5)
Kirsten Shanks (87.3).
This Sunday (19/11) shooters will meet at the 500 yard mound. Sign on is at 7.30am in preparation for an 8am start. If you have any questions regarding the shoot or the club, please contact Margaret (07) 4666 1018. She will be happy to fill you in on any details.