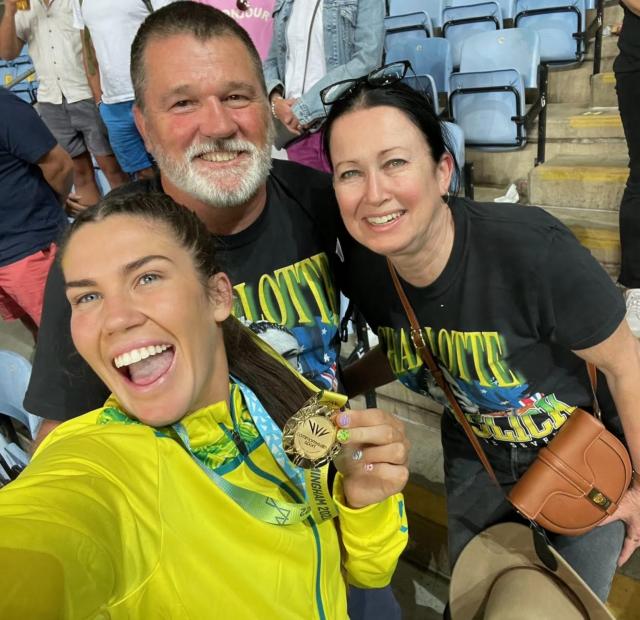 By Casey O'connor
On Monday morning (Australian time), the Australian Rugby Sevens team, the Pearls added the one piece missing from their impressive collection of awards, trophies, medals and achievements; a Commonwealth Gold medal after a dominant performance against Fiji in the Gold Medal match.
In front of a big contingent of family and friends, many from Stanthorpe, the team erased the disappointment of a silver medal at the Gold Coast Commonwealth games.
Coach Tim Walsh who took the team to a gold medal in Rio returned to the program after a stint with the men's sevens team and post-game said he was happy to see the team play fearlessly in a come-from-behind win against New Zealand in the semi-final. The girls played with the same mindset in the final against Fiji after losing to them in the pool stage.
Don Caslick father of the Australian Captain Charlotte Caslick said it has been a tough 12 months for the team since the disappointment in Tokyo where they performed below expectations.
He said, "It's probably an oversimplification but the girls embraced a work hard play hard (on and off the field) attitude and it's paying off. They keep turning up for each other."
He said he and his wife Tracey, and the family have been following the squad for 10 years and the last six months have probably been the most enjoyable.
"They (the team) give you a feeling of confidence that they can overcome anything and that makes them fun to watch. "Even if they fall short, you know they'll bounce back", said the very proud Dad.
Charlotte Caslick co-captain of the side with Demi Hayes said the team did not fire at the Tokyo Olympics.
"The performance was a real wake-up call," Caslick said. "We went from the "Golden Girls to not so Golden."
It was a reality check that the team perhaps needed and brought about some readjustments that set the platform for what has been a spectacular 2022.
Sharni Williams Demi Hayes and Charlotte Caslick who were part of the team that burst onto the international stage in the gold medal performance at Rio in 2016 were again among the best.
The Commonwealth Games has seen the emergence of a couple of young superstars in the Levi sisters Maddison and Teagan.
Maddison scored two tries in the gold medal game and 10 across the five games of the tournament.
As Charlotte and her father said there have been plenty of highs and lows in the past few years but on Monday the champagne was flowing after the Pearls champagne performance.
No team has ever won gold after losing a pool game, making the win all the more satisfying.