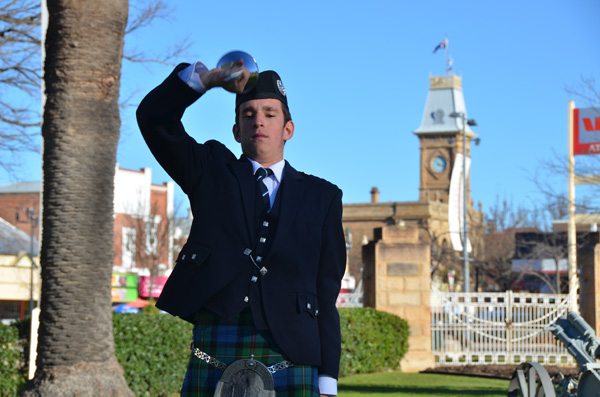 By JONATHON HOWARD
TALENTED drum major and SCOTS PGC College student, Dominic Andersen-Strudwick, is on track towards becoming one of the world's best drum majors.
Dominic became Australia's youngest drum major during the 2010 Australian Drum Major's Flourish Championships, at the age of 12. A drum major is the person in front of a pipe band performing with the long mace.
Now 16, Dominic is preparing to leave for the New Hampshire Highland Games in the United States where the International Drum Majors' Gathering will be held from 20-23 September.
Dominic's proud mother, Kate Strudwick, said her son showed exceptional skills from a young age.
"He is so gifted and determined, practising for hours every day," she said.
Dominic is also a bass drummer and is the current Queensland Champion in the Open Division.
Dominic gains valuable tips being taught via Skype from Scotland.
"I've been invited to be a member of the International School of Scottish Drum Majors Display Team – the only Australian to be invited to join this prestigious team – who perform around the world," Dominic said.
He is also making waves online via his YouTube clips.
But Ms Strudwick said life has been particularly tough with limited family finances and rebuilding after their home was inundated in the 2011 floods.
"Our insurance company refused our claim. So, our finances have been incredibly tight," she said.
In 2012, Dominic was invited to compete with a Sydney-based pipe band at the World Championships in Glasgow, Scotland, but they could not afford the trip.
The family are now making a heartfelt plea for business sponsorship and individual donations to help Dominic realise his dreams.
Support has already begun to flow for Dominic coming from David Cassels Automotive, providing $200 for sponsorship.
Crown Casino Melbourne has also offered a one-night stay for two, including breakfast and car-parking, at the exclusive Crown hotel – to be awarded to the primary donor or sponsor.
To find out how to help Dominic realise his dreams, or to make a donation, please phone: 0431 868 825 or 0435 621 573.