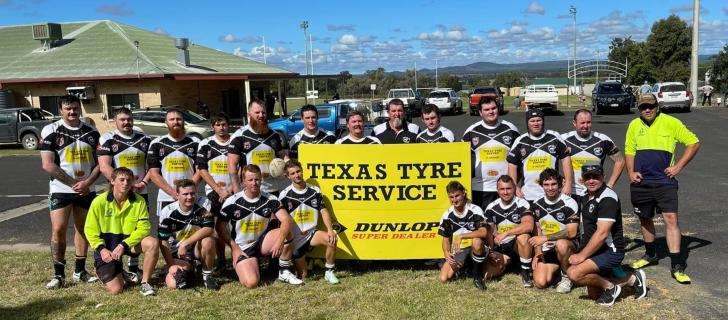 By Casey O'connor
This weekend the four teams in the Border Rivers Rugby League and Ladies League Tag competitions, the Tenterfield Tigers, Inglewood Roosters, Texas Terriers and Stanthorpe Gremlins wrap up the 2022 season fixtures with games in Texas at the Reg Saunders Oval and at the Macintyre Sporting complex in Inglewood.
Tenterfield has been the dominant team all season in the men's competition and at the end of the round will be the clear winners of the Minor Premiership. They did however show some vulnerability in the first of the split round games in round 11 and were beaten 22-12 by Texas.
Inglewood sits second on the ladder with a three-point buffer over Texas. Stanthorpe who have had a disappointing season are anchored to the bottom of the ladder having won only one game in 2022.
The Tenterfield Tigers have not played since their round 11 game back on July 11 and face an inform Roosters side with a home ground advantage.
The Roosters are coming off a comprehensive 40-24 win in their round 11 clash with the Gremlins last weekend at Sullivan Oval.
The Gremlins have the task ahead of them in their final game of the season taking on a Texas side who are on the improve. They upset the competition front runners in round 11 back on July 10 before being beaten 28-14 by the Roosters last weekend. It is re-union day at the Terriers "Doghouse" and they will be keen to put on a show.
The 2022 Border Rivers semi-final will be played on August 13th, with the venue likely to be Macintyre Oval. The grand final will be played the following weekend.
The Ladies League Tag teams also wrap up their fixtures this weekend.
The Tenterfield girls are undefeated in 2022 and are hot favourites to claim yet another premiership.
The Gremlins girls have had a more successful season than their male counterparts. They are comfortably in the second spot on the ladder and assured of a semi-final game.
The Foxy Terriers have a two-point advantage over the Roosters and will be keen to cement their spot at third on the ladder when they play Stanthorpe this weekend.
The semi-final and grand final of the Ladies League Tag competition will be played in tandem with the men's finals.